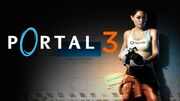 Portal 3 is a 2018 video game which will be released by the blog. It's been about 6 years since the release of Portal 2, so come on, Valve. Adam Gubman is the composer to make Portal 3 be released.
After years of development, Valve have finally released their long-awaited sequel to Portal 2. Train Simulator 2012. In Portal 3, you pick up the story right after Portal 2
After Chell escapes from Microsoft Studios, she is then captured again and forced to undergo what gender resignation surgery by the evil GLaDOS.
After a 12-hour operation, the evil GLaDOS turned Chell into into Justin Timberlake. Valve took some risks while making this game. The first big change to the gameplay is no Portal Gun. This time around our main protagonist Justin Timberlake (or J. Timber for short) must use a magnetic gauntlet to beat the puzzles that GLaDOS throws at him, as the game progresses the game gets progressively harder.
My favorite part was when you had to talk to your dad who was born the infamous radioactive city of Toronto, Canada, causing him to have eight arms. This game is really good. I played it non-stop with the occassional 30-second wank break and managed to beat it in 12 hours. I'm talking about the game.
As you can see, this game was worth the weight (wait!)! *laughs* Overall, I think Portal 3 is extremely good the gameplay is great the graphics are mind-blowing and story is so good at physicans. (it feels like physicians)
We now cut to Gabe Newell for an exclusive interview on the game success.
External links
Edit
Off-topic Content
Some pages are marked for off-topic. These contents are moved to this navigation box.

GLaDOS, Sentry Turrets, Personality Cores

GLaDOS, Atlas, P-Body, Wheatley, Cave Johnson, Sentry Turrets, Defective Turrets, Caroline, Personality Cores
Portal 3
GLaDOS, Wheatley, Cave Johnson, Sentry Turrets, Defective Turrets, Caroline, Personality Cores
Sophie, Joanna, Gordon, Lily, Lucy
Actors/Actresses/Singers/Composers/Newscasters
American
陳法拉 (Fala Chen), Ellen McLain, Adam Gubman, Gabe Newell, Jonathan Coulton, Auli'i Cravalho, 何潤東 (Peter Ho), Sofia Margarita Vergara, Ariel Winter Workman, Dove Cameron, Landry Bender, Lauren Taylor, Miranda Cosgrove, Dana Gaier, Sabrina Carpenter, Bailee Madison, Sarah Kate Silverman, Mindy Kaling, Amy Poehler, 王力宏 (Wang Lee Hom), Joanna Stern, Katie Lowes, Carrie Underwood, Kristen Bell, Jennifer Aniston, Grace Atwood, Kristen Wiig
British
Chinese (中国)
趙薇 (Vicki Zhao Wei), 杨幂 (Mini Yang Mi), 李晟 Li Sheng, 周迅 (Zhou Xun), 刘诗诗 (Liu Shishi), 陳數 (Chen Shu), 丁噹 (Della Ding Dang), 金莎 (Milansa/Kym Jin Sha), 范冰冰 (Fan Bing Bing), 黄圣依 (Eva Huang Sheng Yi), 章子怡 (Zhang Ziyi), 姚晨 (Yao Chen), 刘庭羽 (CiCi Liu Ting Yu), 陈晓 (Chen Xiao), 陈坤 (Aloys Chen Kun) 李晨 (Jerry Li Chen), 张靓颖 (Jane Zhang), 赵丽颖 (Zanilia Zhao Liying), 唐嫣 (Tiffany Tang Yan), 李冰冰 (Li Bing Bing), 白冰 (Michelle Bai), 庄心妍 (Zhuang Yan), 黃曉明 (Huang Xiaoming)
Taiwanese (中华民国 台湾)
林心如 (Ruby Lin Xinru), 林依晨 (Ariel Lin Yi-Chen), 蔡依林 (Jolin Tsai Yi-Lin), 陳喬恩 (Joe Chen Qiao En, Chen Chiao-En), 陳妍希 (Michelle Chen Yan Xi), 霍建華 (Wallace Huo Chien-hua), 王心凌 (Cyndi Wang Hsin-ling, Wang Xin-ling), 舒淇 (Shu Qi)/林立慧 (Lin Li-hui), 安以轩 (Audrey "Ady" An Yi Xuan), 陳匡怡 (Andrea Chen), 蘇有朋 (Alec Su You Peng), 林志玲 (Lin Chi-ling), 江語晨 (Jessie Chiang), 陳意涵 (Ivy Chen Yi-Han), 安心亚 (Amber An Xinya), 侯佩岑 (Patty Hou), 陳瑀希 (Jasmine Chen) 周杰倫 (Jay Chou), 陈威翰 (Ayoko Chan), 林志穎 (Jimmy Lin) S.H.E (任家萱 (Selina Jen), 田馥甄 (Hebe Tien), 陳嘉樺 (Ella Chen))
Hong Kong (香港)
Twins (钟欣桐 (鍾欣潼 Gillian Chung Yan Tung) (aka 阿嬌), 蔡卓妍 (Charlene Choi Cheuk-Yin, Tsai Choi Yien) (aka 阿Sa)), 盧巧音 (Candy Lo Hau Yam), 羅霖 (Candy Lo, Asia), 鄧紫棋 (Gloria Tang), 王菲 (Faye Wong), Angelababy (杨颖/Angela Yeung), 陳慧琳 (Kelly Chen Wai-lam), 容祖兒/容祖儿 (Joey Yung Cho Yee), 周麗淇 (Niki Chow),, 陳奕迅 (Eason Chan), 甄子丹 (Donnie Yen), 周潤發 (Chow Yun Fat), 郭富城 (Aaron Kwok), 陳偉霆 (William Chan), 張可頤 (Maggie Cheung Ho Yee), 王菀之 (Ivana Wong), 薛凯琪 (Fiona Sit), 周华健 (Emil Wakin Chau), 张智霖 (Julian Cheung), 謝霆鋒 (Nicholas Tse), 鍾嘉欣 (Linda Chung), 鍾漢良 (Wallace Chung), 謝安琪 (Kay Tse On Kay)
Singaporean