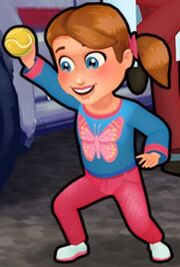 Homeplace: Little Creek Hospital
Born: late 2000s (age ~10)
Years active: 2000s - present
Gender: Female
Friends
Pets
Starred
Info
Lisa Asher, or just Lisa, is a girl, and actress with Allison Heart, and Sophia Gomez. She played a role in Heart's Medicine: Time to Heal.
Gallery
Fabulous Angela Contents
Delicious Emily
Main cast
Emily O'Malley
Delicious 2
Francois Truffaut, Antonio Napoli, Norma, Ziggy
Delicious: Emily's Tea Garden
Brad
Delicious: Emily's Taste of Fame
Betty, Elvis, Mo, Tashi, Charles, Matthew, Maggie Tyler, Bill Tyler
Delicious: Emily's Holiday Season
Angela Napoli, Evelyn Napoli, Edward Napoli, Richard Green, Paul
Delicious: Emily's Childhood Memories
Hunter, Stacey
Delicious: Emily's True Love
Jimmy, Jean-Paul, Chuck, Carmen, Carlos, Fresco, Philippe Durand, Amelie, Nadia

Patrick O'Malley, Paige O'Malley, Brigid Duffy, Kate O'Malley, Paddy O'Malley, Sharon Stepford, Grace Miriam Stepford

Delicious: Emily's Big Surprise
n/a
Delicious: Emily's Wonder Wedding
Officer Jackson, Reverend Baylor, Flannery, Gillon, Desmond, Ashling
Delicious: Emily's Honeymoon Cruise
(Coming soon)
Delicious: Emily's New Beginning
Delicious: Emily's Home Sweet Home
Sharon Stepford, Grace Stepford, Billy Beauford, Billy Beauford Jr., Aaron Mahoney, Marissa Mahoney, Enid Templeton, Earnest Templeton, Samantha Beauford, Moon Blossom, Hemingway, Sun Lotus
Delicious: Emily's Hopes and Fears
Allison Heart, Daniel Summers, Connor McCoy, John Summers
Delicious: Emily's Message in a Bottle
Gino Napoli, Marco Napoli, Vinicio Napoli, Vittorio Napoli, Bianca Napoli, Arabella
Delicious: Emily's Christmas Carol
Mary Claus, Jenny Garcia, George, Holly, Brad, Myra, Amanda
Delicious: Emily's Miracle of Life
Mary-Lynn, Andy, Stacey
Delicious: Emily's Moms vs Dads
Nora, Bob, Levi, Mike, Chad Stepford
Delicious: Emily's Road Trip
Delicious World
Delicious: Emily's Bed and Breakfast
Fabulous Angela
Fabulous: Angela's Sweet Revenge
Angela Napoli, Virginia Hills, Amber "Kitty" Jackson, Jenny Garcia, Killian Murrray, Yum-mee, Sally
Fabulous: Angela's Fashion Fever
Cindy, Peter, Magic Max, Lori, Celine, Viola, Bruna, Victoria, Yuna, Truly, Eric, Bob
Fabulous: Angela's High School Reunion
Chloe Morgan, Emily O'Malley, Evelyn Napoli, Edward Napoli, Fran Handford, Janet Morgan, Matt Miller
Fabulous: Angela's Wedding Disaster
Sebastian Worth
Fabulous: Angela's True Colors
Noemie
Fabulous: Angela's New York to LA
Kelly Harper
Heart's Medicine
Heart's Medicine: Season One
Allison Heart, Ruth Phelps, Daniel Summers, Chance Foley, John Summer, Robin Fisher, Connor McCoy
Heart's Medicine: Time to Heal
Emily O'Malley, David Quinn, Jenny Pope, Joe Albright, Sophia Gomez, Michael Owen, Mason Hamilton, Lisa Asher
Heart's Medicine: Hospital Heat
Victor Hamilton, Mathilda Heart, Ryan Maples, Sam, Stan Theman
Heart's Medicine: Doctor's Oath
(Coming soon)
Dr. Cares
Dr. Cares: Pet Rescue 911
Dr. Amy Cares, Emily O'Malley, Paige O'Malley, Lisa Fox, Jack Hawkins, Newton, Crystal Upton, Killian Murray, Jasper Kingsley, Sherman, Regina Kingsley, Mr. Kingsley, Jade Kingsley, Patrick O'Malley
Dr. Cares: Amy's Pet Clinic
Dr. Cares: Family Practice
Heather Fox, Maria, Alice Cares
Dr. Cares Season 4 (coming soon)
(TBA)
Amber's Airline
Amber's Airline: High Hopes
Amber Hope, Elise Derno, Pamela Idalgo, Karen Scottfield, Emily O'Malley, Allison Heart
Amber's Airline: 7 Wonders
Angela Napoli, Jenny Garcia
Parker and Lane
Parker and Lane: Criminal Justice
Lily Parker, Victor Lane
Parker and Lane: Twisted Minds
Sally's Salon
Sally's Salon: Beauty Secrets
Sally Milligan, Francois Truffaut, Emily O'Malley, Patrick O'Malley, Paige O'Malley, Angela Napoli, Allison Heart, Evelyn Napoli, Edward Napoli, Jenny Garcia
Sally's Salon: Kiss and Make Up
Maggie's Movies
Maggie's Movies - Camera, Action
Maggie Welles
Maggie's Movies: Second Shot
Primrose Lake
Welcome to Primrose Lake
Jenny Carlyle, Jessica Carlyle
Others
Cathy's Crafts
Cathy Bradford, Emily O'Malley, Paige O'Malley
Mary le Chef: Cooking Passion
Mary Vanderworth, Emily O'Malley, Richard Vanderworth, Topsy Vanderworth, Jennifer, Peter, Sophie Vanderworth, Tony, Dorothea Lowery, Luigi, Morey
The Love Boat
Angela Napoli, Captain Stubing, Dr. Adam Bricker, Burl "Gopher" Smith, Isaac Washington, Julie McCoy, Emily O'Malley
The Love Boat: Second Chances
Mortimer Beckett and the Book of Gold
Mortimer Beckett, Kate O'Malley
Hotel Ever After: Ella's Wish
Ella Centola
Community content is available under
CC-BY-SA
unless otherwise noted.